Chandria Jones
Pronouns: She/Her
Principal Research Scientist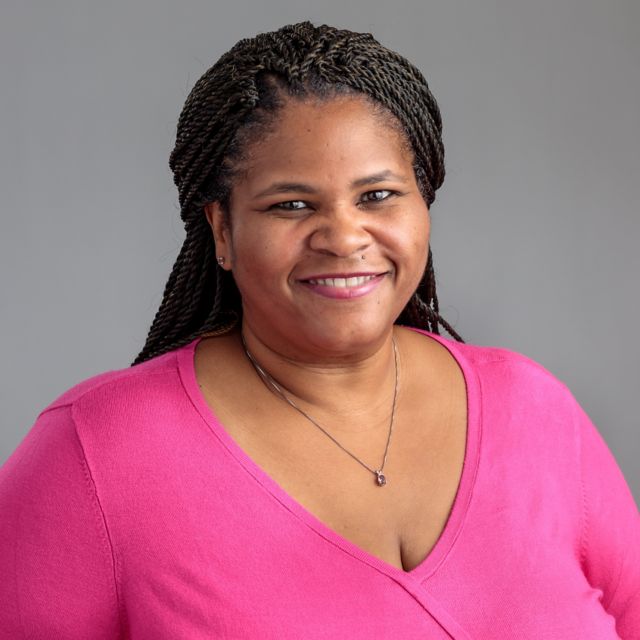 Chandria is a mixed-methods researcher and leader in culturally responsive and equitable evaluation.
Chandria is a qualitative and mixed methods researcher who focuses on leveraging youth and community voice for systems change, social justice, and health equity. She conducts research and evaluation in the areas of behavioral health, homelessness, obesity, health disparities, health communication, and evidence-based practices. With an emphasis on culturally responsive and equitable evaluation, Chandria brings a lens of racial equity, diversity, and inclusion to her work with a particular commitment to community engagement and participatory methods. Her research examines social and environmental determinants of health for historically disadvantaged populations such as people from racial and ethnic minority groups, youth and families with lower incomes, and persons with mental health and substance use challenges. Chandria's work has a strong racial equity and systems change focus emphasizing the need to understand the complex social, cultural, and historical factors necessary to transform policies and practices.
Currently, she is the Project Director for the CDC funded project, Exploratory Evaluation of Anti-Racism Practices in Healthcare Settings, which aims to identify multi-level strategies to address implicit bias and institutional racism. She is Deputy Project Director for a CDC project providing research, monitoring, and evaluation support to the Center for State, Tribal, Local, and Territorial Support (CSTLTS). She was previously the Principal Investigator for the Health Resources and Services Administration (HRSA) Special Projects of National Significance (SPNS) Initiative project, Implementation of Evidence-Informed Behavioral Health Models to Improve HIV Health Outcomes for Black Men who have Sex with Men. In this role, she oversees a comprehensive and culturally responsive, mixed-method, multisite evaluation that includes providing technical assistance (TA) to eight Initiative demonstration sites and disseminating Initiative evaluation findings and lessons learned to the Ryan White HIV/AIDS Program community.
Before coming to NORC, Chandria was a senior study director at Westat leading research and evaluations for federal agencies and foundations. Chandria applied culturally responsive and equitable evaluation approaches working with racial and ethnically diverse communities as Principal Investigator for the Annie E. Casey Foundation's Evidence2Success Outcome Evaluation. She also spent several years working as Project Manager for the Children's Mental Health Initiative National Evaluation for the Substance Abuse and Mental Health Services Administration (SAMHSA). In her work, Chandria provided a systems perspective to examining social, cultural, and physical environments in which people live, which either encourage or inhibit opportunities for health, mental health, and well-being.
Chandria is an editor of the book, Culturally Responsive and Equitable Evaluation: Visions and Voices of Emerging Scholars, which spotlights the scholarly, philosophical, and best practices of emerging Black, Latino/x, Indigenous, and other scholars from historically marginalized populations in support of culturally responsive and equitable evaluation.
Education
PhD
University of Maryland, College Park
MPH
Florida International University
Appointments & Affiliations
Lecturer
University of Maryland, School of Public Health
Alumna
Leaders in Equitable Evaluation and Diversity Program
Member
Advancing Culturally-responsive and Equitable (ACE) Evaluation Network